SELF-STUDY, TECHNICAL WRITING COURSE
Are you looking for a proven Technical Writing Course, but don't want to spend hundreds of pounds on it?
I've been writing Manuals and Help Guides for about 25 years, and I ran my own full time Technical Writing business for 17 years. My Training Courses were in good demand internationally: I delivered this course live to companies across Europe, and as far away as India and the USA. Over the years, it has earned me £1/4 million.

I have now retired, but I want to pass on my skills and knowledge to people like you, at a discount. For many years, I charged about £395 to £425 for a one-to-one training day. For small groups, some companies paid me over £2,000 for a day's training on site.
Therefore I'm offering you my complete, 150-page, self-study Training Course for just £95.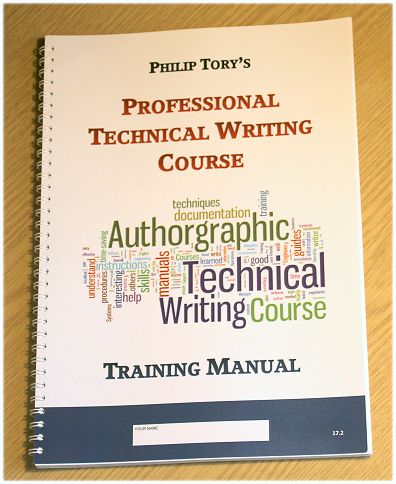 See my main web site about > Self-study, technical writing courses.
I am a very technical writer, and have run my own successful tech authoring business since 2000. Part of this business has been teaching other people how to write successful manuals themselves - that is, successful from the Reader's point of view!

I'm passionate about good writing, and want to pass on the best of what I know, to people like you and your team.

I've studied Technical Writing and Plain English for over 20 years across the different English-speaking countries. I've also gathered feedback from hundreds of people who write technical documentation for their companies, and analysed their needs. This course covers just about everything they ever asked for.

I've retired from running these courses live, but the Course Manual contains everything I teach on the training day, plus a lot more.
Self-Study Training Course in a Manual
I have trained several hundred people in groups of up to 12, on site, across Europe and as far away as India and the USA.

I have also trained individuals in a one-to-one training day at my Gloucester office for up to £325; but I'm offering you this Self-Study course manual for only £95.00 including UK postage.

Learn the writing skills that will benefit you (and your employers) for the rest of your life!
Recent testimonial:
"I think a lot of people could benefit from your Course and method of teaching. It was a pleasure and very enlightening too. I found it interesting and very instructive, and learnt much in a short time.

The depth of knowledge, and relaxed manner in which the instruction was presented, made the learning process so much easier. I would recommend this course to anyone who has any dealing with technical documentation.ˮ

- Paul Carter, Consultant, Persides.
'This Manual is really, really good. It's just what we needed.' — Matt E., Interactive Coding Equipment, Nottingham.
Whatever the industry