Discover the 'Secrets of the Trade' in this Technical Writing Course

^ Sound on - click to play
Now in its 12th successful year, hundreds of people have enjoyed this instructor-led course, learning proven methods that deliver results.

Learn professional Writing Skills

Discover user-friendly writing techniques

Save writing time

Proven techniques improve readability

Clear writing improves user productivity

Reduce your incoming support calls.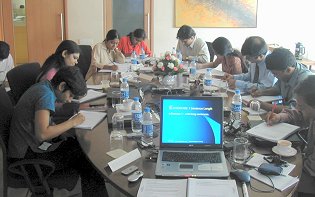 Course held in Mumbai, India
This Course is designed for everyone who needs to produce clear, concise instructional information in the form of printed or on-screen documentation, whether for User Manuals, Procedures, Software Help Guides, training courses etc.
Documentation Skills for life
This one-day writing course is interactive and practical, covering the Key Skills of effective technical writing.
Why might you need this Course?
Many businesses suffer from the style of their written output. Ideas are poorly expressed, confusing to the reader, with bad grammar, bad design, and so on.

A National Opinion Poll survey concluded:
"Bad design, poor grammar and atrocious spelling could be costing UK businesses a staggering £41 billion a year in lost sales.
74% of customers said they would not trust businesses that used poor spelling or grammar."
► See Cost Savings
"What are the Objectives?"
Learn to plan documentation quickly and easily; to write effectively for the target readership; and to produce professional and user-friendly technical documentation. Be confident in choosing an appropriate writing style and structure technical documents effectively for maximum impact.
"Where are s held?"
We train on site, at your chosen premises, so that discussions can be open, free-flowing and focussed on issues specific to your business. We have run this course across the UK, Europe, in the USA and India.
"What are the Cost Benefits?"
► Click here to see cost benefits of this course.
"Who is the Leader?"
The course leader for the Technical Writing training course is Philip Tory, BSc(Hons), Dip.M., Technical Author, Trainer and Director of Authorgraphic Ltd.
We offer Training anywhere in UK, Europe, India, USA etc. Distance is no problem.
---
"
What's the Technical Writing Course Content?

"

Characteristics of Effective Technical Writing.
Planning the Content. Learn simple, quick and powerful planning techniques.
Writing in Plain English.

►

See more.
Targeting the reader.
Clarity, waffle, brevity, jargon and acronyms.
Layout and appearance.
Spelling, Punctuation & Grammar.
Writing for overseas readers or translation.
Readability.
Work Smart in MS Word: hints and tips.
How to add a key word Index at the back.
Practical exercises.
Each delegate receives a copy of the 150-page course book, "Successful Technical Writing".
"How do I book a ?"
Prices on application. Terms and Conditions apply.
Maximum of 12 delegates per day course.

For more information or to book a course, call 01452 - 500 639.


14 days' notice please!
We need your official order by at least two weeks before the training date.

Technical Writing and Training Courses.

Authorgraphic Ltd
for Custom Documentation.

Technical Writing Courses UK on Facebook

Authorgraphic™ is the trade mark and brand name owned by Philip Tory, Authorgraphic,
29, King Edwards Avenue, Gloucester, UK 01452 500639