Discover the 'Secrets of the Trade' in this FREE Technical Writing Course


Over a 12-year period, several hundred people have enjoyed this instructor-led course, learning proven methods that deliver results.

Now I have retired, so I am giving it away for FREE, as a Self-Study, PDF Training Manual. No catch.
For details, please follow the link on the Home page
Learn professional Writing Skills

Discover user-friendly writing techniques

Save writing time

Proven techniques improve readability

Clear writing improves user productivity

Reduce your incoming support calls.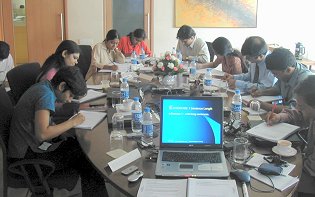 Course held in Mumbai, India
This Course is designed for everyone who needs to produce clear, concise instructional information in the form of printed or on-screen documentation, whether for User Manuals, Procedures, Software Help Guides, training courses etc.
Documentation Skills for life
Why might you need this Course?
Many businesses suffer from the style of their written output. Ideas are poorly expressed, confusing to the reader, with bad grammar, bad design, and so on.

A National Opinion Poll survey concluded:
"Bad design, poor grammar and atrocious spelling could be costing UK businesses a staggering £41 billion a year in lost sales.
74% of customers said they would not trust businesses that used poor spelling or grammar."
"What are the Objectives?"
Learn to plan documentation quickly and easily; to write effectively for the target readership; and to produce professional and user-friendly technical documentation. Be confident in choosing an appropriate writing style and structure technical documents effectively for maximum impact.
"Where are s held?"
We train on site, at your chosen premises, so that discussions can be open, free-flowing and focussed on issues specific to your business. I have run this course across the UK, Europe, in the USA and India.
"What are the Cost Benefits?"
Invest just once in this training manual, and you will benefit for the rest of your life. Why pay someone else to write your manuals when you can write them yourselves? All you need is to Know How - and this course gives you the Knowhow.
"Who created this ?"
The Technical Writing training course was created and refined over the years by Philip Tory, BSc(Hons), Dip.M., Senior Technical Author, International Trainer and Director of Authorgraphic Ltd.

I ran courses across the UK, Europe, India and USA etc.
---
"
What's the outline of the Technical Writing Course?

"

See Technical Writing Course Outline < click


In brief:
Planning the Content. Learn simple, quick and powerful planning techniques.
Writing in Plain English - see more.
Targeting the reader.
Active and passive sentences
Clarity, waffle, brevity, jargon and acronyms.
Layout and appearance.
Spelling, Punctuation & Grammar.
Writing for overseas readers or translation.
Readability.
Work Smart in MS Word: hints and tips.
How to add a key word Index at the back.
Practical exercises.
This is all contained in this 150-page PDF book, "Professional Technical Writing".
Authorgraphic™ is the trade mark
and brand name owned by Philip Tory,
Gloucester, UK
"Testimonials" *
"
A practical, enjoyable and insightful course ... providing an interesting reminder of how much I had forgotten and how easy it is to get into bad habits! The course material is both useful and accessible, and will undoubtedly prove invaluable in the workplace, where I intend to put into place some of the skills practiced during the course
."

- Debi Strawson, Perenco, Gt Yarmouth.
"Lots of useful ideas and smart tips to make technical writing less scary - whether you are updating an existing manual or writing from scratch."

- J. Taylor, Manager, Employee Communications and Development, RSPCA.

"This course is really going to save me precious time. I would recommend it to anyone who has to write and maintain any type of document. "

- Kyla Young, Operations Manager, Dataflow Communications.
"The most interesting parts for me were the exercises because I like the 'hands on' approach. I find 'to do' is the best way for me to learn. I also liked sharing ideas with my colleagues and having the time to think about how we can move forward with our documentation project. I valued Philip's input and suggestions."
- Margaret McDermott, Training Advisor,
Quintiles Ltd UK.